Our Clients are followed step by step from the moment they reserve their trip in North America and throughout their stay in Europe. Prdducts and crefted tours we will embroider for you
With headquarters in LIBERTYVILLE, Illinois, this privately owned company is administrated by Mauro F. Galli President of the company, who works in the Tourcrafters Headquarters & his cousin Piero Galli the executive Vice President splitting up his time between Libertyville and Rome to coordinate and oversee operations in Europe. With this winning combination, we are able to send our clients to Europe with confidence!
Now celebrating more than 34 years of experience in the United States, Tourcrafters offers the American Market the most exhaustive collection of programs to Europe. From bargain priced tours to our Luxurious Golden tours, and travel services such as independent hotel stays, transfers, sightseeing, car rental, cruise extensions and customized private services in Italy, France, Spain, Germany, Switzerland, Imperial Capitals, Greece and Turkey.
Tourcrafters offers a vast variety of properties in Europe: from 3 stars hotels to 5 star luxury historical residences, beautiful villas in Tuscany, charming castle and "demeures de charme" in France, family owned cottages in Ireland and apartments, "Vizier" palaces in Turkey, cave hotels in Santorini and package it with the best services available, private transfers and sightseeing, wine & bike & balloon & photo tours. We include free gelatos and aperitivo, gourmet dinners at selected non tourist spots.
Our vast selection of Escorted tours are carefully selected to offer an unforgettable vacation. Our clients can choose from the budget "bronze" tours or our Bilingual speaking "silver tours" with limited passengers to our "Golden tours" with maximum 16 passengers and original & gourmet experiences.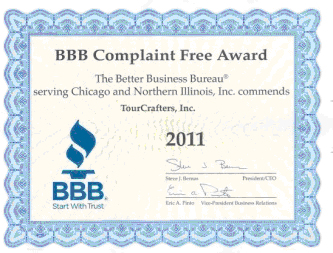 Service, courtesy, timeliness & experience
We are your one stop specialists in Italy and Europe since 1980, Tourcrafters offers you the best hotels and tours, together with courtesy, timeliness and service. TourCrafters knows that service, from the moment you dial the phone, to the moment you return home, is a key to your level of comfort and the success of your vacation.
Our professional reservationists have worked with us for 8 years or longer. They have all been to Europe and experienced our products first hand. With this type of experience you know you will get the best service possible with geographical & cultural knowledge. Our suppliers have also been around for many years. We offer our clients a representative in each country and most cities we offer. This is essential for a more relaxed vacation.
Whether speaking to a reservationist on our toll-free number. Or making an inquiry via E-mail you can expect courtesy, information and timeliness.
Consumer Protection Plan $250.000